A short history of the first garage doors –
Overhead door wooden garage doors were invented by C.G. Johnson in 1921. During this time, C.G. Johnson and his wife toured America demonstrating the "Overhead Door" with a miniature garage door mounted on a Ford model T truck. C.G. Johnson became so successful after his demonstrations that he could not keep up with demand. He soon franchised the business and the Overhead Door became a household name.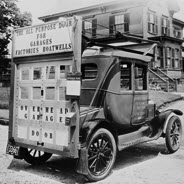 Why Wood?
Wooden garage doors offer many benefits. They are completely customizable, super durable and somewhat "dent-proof" compared to the metal alternatives. Wood doors can accommodate non-level floors and act as a natural sound barrier. They offer a higher architectural value and can easily be refinished to welcome any design change in the home.
Are Wood Doors Insulated?
Just like any metal door, wood doors can be insulated or uninsulated. Wood, however, is consider a good insulator to begin with. With wood doors ranging from one inch to three inches thick the possibilities are almost endless.
How Long Do Wood Doors Last?
Wood doors if properly taken care of and well maintained will last 50-75 years! For most homeowners the doors will be there long after they have moved.
What Different Species of wood are wood garage doors made from?
Wooden garage doors are often made from woods such as: Cedar, Mahogany, Oak, Hemlock and Plywood. Other less common wood species include: Spanish Cedar, Clear Western Red Cedar, Knotty Cedar, Incense Cedar, African Mahogany, Sapele Mahogany, Meranti Mahogany, Clear Cypress, Ipe, Red Grandis, MDO Plywood, and Reclaimed Wood. Other woods may be available to suit your home's need.
What Does Maintenance For A Wood Door Look Like?
Wood doors do require just a little more maintenance than a metal or fiberglass door. They must be sanded and either painted or stained every 3-5 years. Other than that the require the same yearly maintenance that a metal or fiberglass door requires.